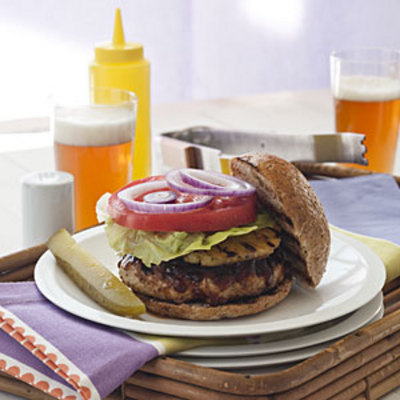 The perfect burger for the upcoming spring season! One of the many great things about this burger is that you use ground turkey instead of ground beef. It's much leaner and easier on your heart as oppose to the fattier, heart-unfriendly red meat. This recipe is quick, easy and extremely delicious!
Preparation Time: 10 minutes
Cook Time: 12 minutes
Fridge to Plate: 22 minutes
Ingredients
1 lb ground turkey (93/7 ratio)
1/2 c low sodium teriyaki sauce
1 can no sugar added pineapple rounds
4 whole wheat thin buns (regular whole wheat buns are ok too)
Directions
1.) Preheat your grill to medium-high
2.) Divide the pound of ground turkey into 4 or 5 patties
3.) Push your thumb into the center of each patty to prevent the burger from bulging out in the middle and turning into a football shaped burger.
4.) Grill the burgers for 5-6 minutes, flip and brush the already grilled side with teriyaki sauce.
5.) Continue grilling for another 5-6 minutes.
6.) With two minutes left of grilling time, put the buns face down and the pineapple rounds on the grill as well.
7.) When the time is up, brush the other side of the burger with teriyaki sauce.
8.) Pull everything off the grill, put the burger on the bun with a pineapple round on top.
9.) Add lettuce, tomato and onion if you'd like.
10.) Enjoy!
Easy, healthy, and delicious!
Until tomorrow, spend Everyday Living Fit!
Image Source:
http://www
.health.com